The Shop
Infinite Space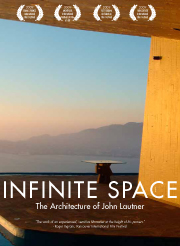 By agreement with the Googie Company, the Foundation is delighted to offer the DVD of Infinite Space: The Architecture of John Lautner.
---
Infinite Space, a documentary feature film, traces the lifelong quest of visionary genius John Lautner to create architecture that has no beginning and no end. It is the story of brilliance and of a complicated life and the most sensual architecture of the 20th century. (90 minutes) This DVD is the universal version, playable on all DVD players.
SPECIAL FEATURES
Architect/editor Frank Escher comments on eight spatial portraits of Lautner masterpieces: Marbrisa, Elrod, Pearlman, Walstrom, Turner, Silvertop, Schaffer and the Chemosphere. (3-6 minutes each)
Director Murray Grigor shares his thoughts on filming INFINITE SPACE with clips from the feature. (12 minutes)
note: Educational institutions that want to purchase copies for their archives should contact Sarah Oubridge at Sarah (at) nostalchick (dot) com.
Donation each: $25: nonmembers; $23: JLF members
Shipping and handling: $4?($10 outside U.S.)
You will have an opportunity to order more than one after you click the Add to cart button. After adding an item to the cart, please scroll down to see the contents of your cart and to check out, if you wish.
Inside U.S., non-JLF members:
Outside U.S., non-JLF members:
Inside U.S., JLF members:
Outside U.S., JLF members:
---
Tribute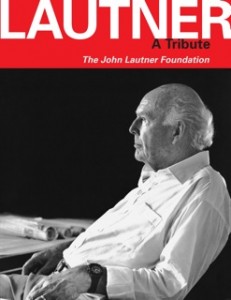 The John Lautner Foundation published a revised version of a special tribute to John Lautner in February 2010. The original version, a collection of memories by people who were important in John Lautner's life, was an edition of the Journal of Taliesin Fellows, published in 1995, edited by Frank Escher, with layout by Louis Wiehle. The new version contains all of the original memories plus a special new one by Lautner's step-daughter Elizabeth Honnold-Harris, an article on the Foundation by Karol Lautner Peterson, and an article on the future by Christopher Carr.
The Tribute is available for sale in the museum shop of the Palm Springs museum, and is now available here as well.
Size: 8-1/2 X 11 inches
40 pages, incl. back cover
7 ounces shipping weight
Per issue:
Foundation members (all member types except mailing list): $10.00
Non-members: $12.50
Shipping and handling is $3.50 per item within the United States. International shipping and handling $8.
If you don't remember if you are a current member of the Foundation, write to
member (at) johnlautner (dot) com and we'll tell you!
Inside U.S., Nonmember:
Outside U.S., Nonmember:
Inside U.S., JLF member:
Outside U.S., JLF member:
——-