Foundation | Archives | Biography | Bibliography | Associates | Links | In His Own Words | Plans and Photos | We Remember | Guestbook | Home
---
The John Lautner Foundation
Celebrate John Lautner's 90th Birthday!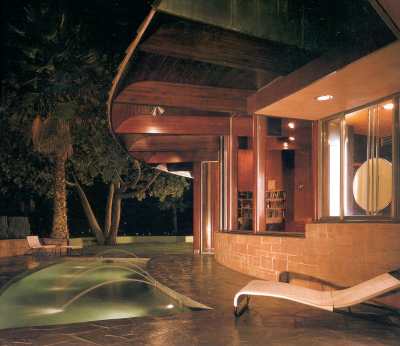 Harvey Residence and pool, outside
photo by Todd Eberle, from Vanity Fair April 2000
Join us in a celebration of John Lautner's 90th birthday.
Take part in a special foundation event on the weekend of October 13 and 14, 2001. This second annual event will include a tour of four Lautner homes on Saturday, plus a panel discussion and reception at the "Harvey House" on Sunday. You may choose to participate in either or both.
---
The Tour
The guided tour will take you to four radically different solutions to steep mountainside lots, all in the hills above Los Angeles:
The Sheats (now Goldstein) residence, Built in 1963 for Mr. and Mrs. Paul Sheats, restored and remodeled in 1989+ for Mr. James Goldstein; a large modern cave-like dwelling with frameless glass walls, pool and water features, unique fittings and furnishings designed by Lautner;
The Walstrom residence, built in 1969 for Mr. and Mrs. Douglas Walstrom, whose limited budget but unlimited spirit led to a small and unusual gem of a house, a trapezoidal cabin with glass on all sides, making the trees and hillside the true walls, referred to by Alan Hess as "a spectacular explosion of floating forms..."
The Concannon residence, built in 1960 for Mr. and Mrs. Charles Concannon, who wanted "maximum daylight in all rooms". Next door to the Sheats/Goldstein house, it in no way resembles its neighbor. The shifting levels, opposing arc design, and thin pipe mullions create a protected yet open living area.
The Schwimmer residence, built in 1982 for Mr. and Mrs. Alden Schwimmer, a "horizontal castle" of stone and glass, wrapped around the contours of the hill. The two-story structure features a cantilevered swimming pool and terrace and exploits the incredible view. The house is dominated by six massive cylindrical stone columns, housing bathrooms and closets, completing the castle-like feel.
Guests will park in a central location and board vans for the tours, which will start at staggered times between ten a.m. and 3:30 p.m. Details will be provided when you register.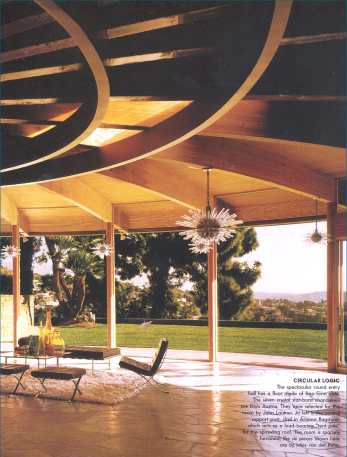 Harvey residence, interior of spacious living area;
photo by Todd Eberle, from Vanity Fair April 2000
---
The Symposium
The panel will feature:
Helena Arahuete, Long-time associate of John Lautner, architect for the restoration of the Harvey house
Kelly Lynch and Mitch Glazer, owners of the Harvey residence, thoughtful angels of its sensitive restoration
Louis Wiehle, early associate of John Lautner
John de la Veaux, original building contractor
Robin Poirier, contractor for the restoration

The panel will be moderated by Frank Escher, architect, editor of John Lautner, Architect, member of the Foundation board of directors and manager of the archives. Mr. Escher also moderated last year's highly successful panel. The discussion will be followed by a reception of beautiful delicacies, to be enjoyed inside or outside.
---
Prices
Tour Only
Symposium Only
Tour and Symposium
Members
$55
$45
$90
Non-members
$85*
$75*
$125*
Students
$40
$35
$75
*includes one-year membership in Foundation
---
RESERVATIONS

Architours: All major credit cards accepted
Call 323-294-5821
toll-free 866-2architours (227-2448)
Or fax 323 294 5825
or email info@architours.com. Please know that email transactions are not secure. Sending credit card information this way is at your own risk. for more information write lautner@johnlautner.org