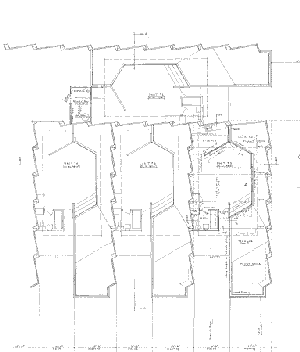 Plan view
plan from archive
Steven Lowe purchased the Desert Hot Springs Motel in 2000, renovated it lovingly, and re-opened it for business in August 2001. It has since appeared in "In Style" magazine (Sept 2001), "Travel & Leisure" (June 2001), and other magazines and symposium brochures. The motel is located in an unlikely place, not far from Palm Springs but far removed from the glamour of that city.
Part of its attraction as a true desert retreat is based on its hidden location. The motel offers an opportunity for persons to spend time in a Lautner building that reflects in small and gem-like scale the architect's approach to all of his work: a blending of indoors and outdoors, protection from the elements without sacrifice of light and air, an understanding of real human needs.



For reservation information, call (760) 329 5610 or check out http://www.lautnermotel.com. Photographer Scott Van Dyke can be reached through http://www.workbook.com/portfolios/vandyke or http://www.finephotoart.com.