As reported in previous newsletters, the Foundation is pleased to report that the Getty Research Institute has accepted the John Lautner archive and is in the process of preserving and cataloging the materials. Members of the John Lautner Foundation Board of Directors toured a part of the Getty Research Institute last April, to get an idea of the preservation process.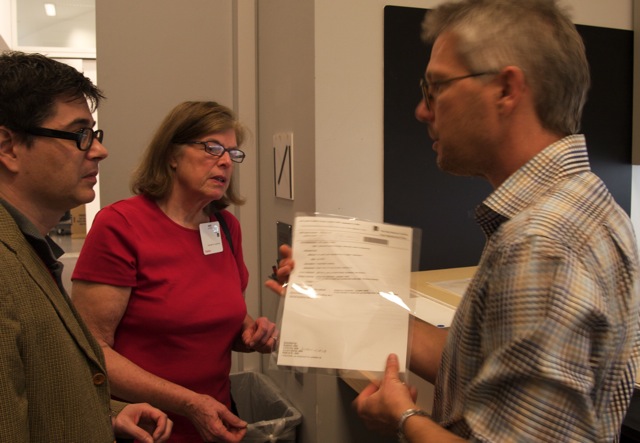 Albrecht Gumlich, head of the Lautner conservation effort, shows Frank Escher and Karol Lautner Peterson the record created for each item in the archive.
Karol Lautner Peterson, Christopher Carr, Frank Escher, and Judith Lautner met with Wim DeWit, head of Special Collections and Visual Resources, who then introduced the board members to Albrecht Gumlich,  who is overseeing the preservation effort.  Gumlich described and showed the group several of the methods in use for different types of materials and different challenges .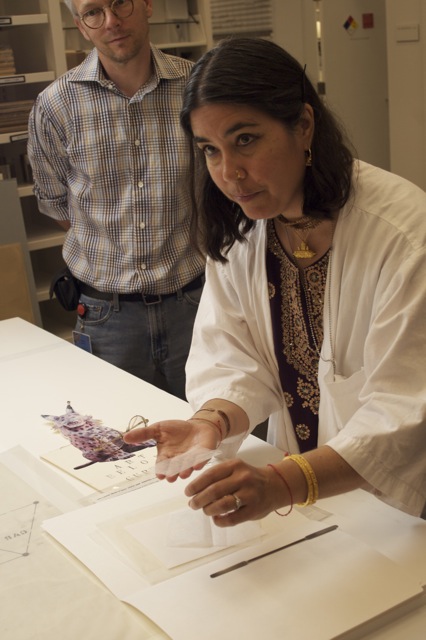 Conservation worker describes use of special paper for repairing tears and reinforcing corners.
The Getty Special Collections section includes specialists in many different aspects of preservation. Some work on original plans, some on models, others on photographs. The primary goal is to stabilize the material, which often means no more than eradicating insects and then preserving in special covers and cabinets in climate-controlled vaults. In the case of the Lautner models, decisions have to be made about how to repair damage and whether or not to replace faded color elements.  When portions of a model are missing any replacement parts must be removable without affecting the original materials. Preservation appears to be an art as well as a science in this respect.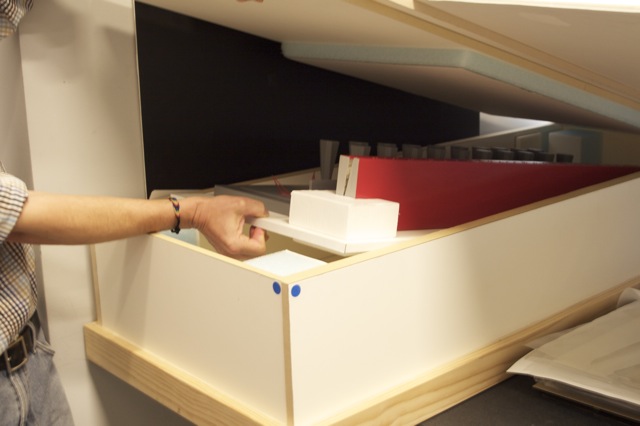 Gumlich displays the type box created for model preservation.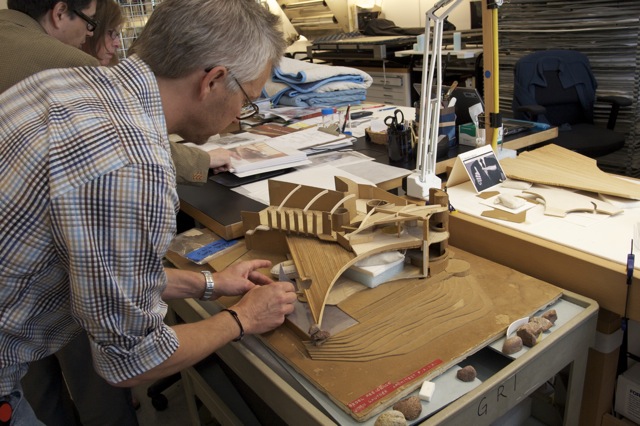 Gumlich describes the decisions that had to be made in the preservation of the Segel residence model.
Because of the detailed work that is being done on the extensive Lautner collection, it will be several months before the collection is available for research by the general public. When it is available, the Foundation as well as the Getty will announce it.